CLIENT SPOTLIGHT
ABSOLUTELY THE BEST MEDICINE: KEITH AND HIS CATS, NINA & ROMEO
For 17 years, Nina and Romeo have been a constant source of love and encouragement who help PAWS client Keith P. deal with his daily life challenged by a brain injury. They encourage him to use his hand-eye coordination, dexterity, and balance. They calm his anxiety while keeping him going during times of depression.
Over the years, they have helped give Keith the drive and purpose to get up every day and work toward getting out of his wheelchair, defying skeptical doctors who had diagnosed him with paraplegia.  Yet Nina and Romeo are not caregivers, at least not in the traditional sense.
"In great thanks to these little souls and our hard work, Keith danced at my cousin's wedding. His two amazing cats are absolutely the best medicine," says Keith's full-time human caregiver, Robin.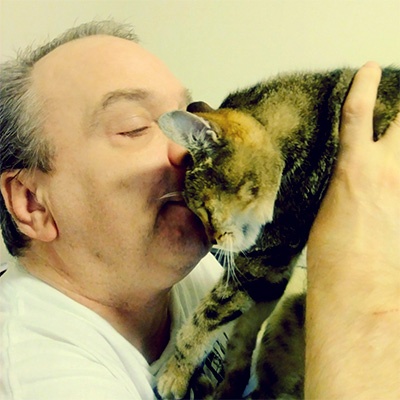 Since Keith's cats are aging, they have encountered some serious health issues. PAWS recently provided vet funds to pay for emergency exams, lab tests, and treatments for both Nina and Romeo. Keith and Robin are unbelievably grateful for this support.
"We cannot thank PAWS enough for helping us give Nina and Romeo the care they have earned with their love and devotion over these many years," says Robin.
PAWS helps people like Keith and more than 600 others thanks to generosity of our wonderful supporters!
PETCHITECTURE: CELEBRATING 32 YEARS OF PAWS
Thanks to our generous supporters, our annual Petchitecture gala raised over $275,000! We welcomed nearly 400 two- and four-legged guests to the Fairmont Hotel on June 6th to celebrate 32 years of PAWS.
The atmosphere was enchanting, as our guests, canine and human alike, perused the one-of-a-kind pet habitats, stopped to take a photo with puppies at the photo booth, and enjoyed a heartwarming program. ​
We were honored to present the Dede Wilsey Champion of the Human Animal Bond award to former PAWS Executive Director John L. Lipp for his many years of dedicated service to PAWS and the community. Thank you to all who were there to celebrate with us!
Click here for a peek inside our wonderful night!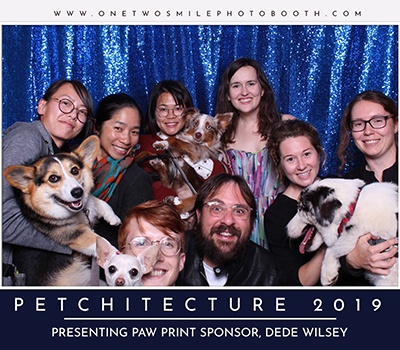 CELEBRATING PRIDE
In June, the Shanti/PAWS contingent vibrantly strutted down Market Street at the 49th Annual San Francisco Pride Parade. Together, clients, volunteers, staff, friends, pups, and even a pig celebrated this year's Pride theme, Generations of Resistance. This lovely morning was filled with community, connection, and compassion. Thank you to all who joined us.
Click here to see the colorful and festive photos!

Join us October 3, 2019 at the Palace Hotel in San Francisco as we celebrate 45 years of cultivating compassion in our community. Click here to learn more and purchase tickets!