Many lives, many stories, one goal.
Hulda

Hulda became a client of Shanti in 1994, three years after she was diagnosed with HIV. At that time San Francisco had numerous HIV support groups, but services for women were not widely available. Hulda approached this problem, as always, with poise. In the course of seeking out resources, she sparked relationships and built connections within the existing support groups; making space for herself until others began to hold it for her.
A San Francisco resident for more than 40 years, Hulda is a respected community leader and advocate. Charm, compassion, and style underpin Hulda's approach. At Shanti, her openness and willingness to be vulnerable have established her as resource and maternal figure for other clients. In the larger community her insight, non-judgmental care, and style have landed her on boards and on the sides of Muni buses.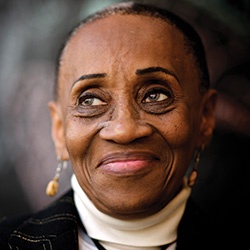 She is a board member with Women Organized to Respond to Life-Threatening Diseases (WORLD) Committee, the Black Health Center of Excellence, and is a member of Shanti's HIV Services Client Advisory Board. For many years, Hulda has empowered classes of new volunteers as a client panelist for the Shanti Peer Support Trainings. We recognize that Hulda's presence and aplomb on the panel allays the nerves of new volunteers and crystallizes their connection to Shanti's work.
Through her experiences, she is able to share her unique skills identifies, synthesizes and speaks to ways that everyone in the room can work in greater collaboration to learn from the challenges. In addition, Hulda is the proud mother of two sons, Raymond and Victor. She teaches HIV education to students at Castro Valley High School and attends Shanti's Older & Positive group.
Daralt
Daralt, a 75-year-old long-time resident of San Francisco, was dealing with anxiety, depression, and isolation when a friend told him about Shanti two years ago. He had suffered much personal, professional, and financial loss during periods of his life. Daralt wasn't comfortable reaching out for support, yet he gained the courage to contact Shanti's LGBTQ+ Aging & Abilities Network. We connected him with a Care Navigator and a Peer Support Volunteer so that he wouldn't have to face his challenges alone.
Daralt's Care Navigator and Peer Support Volunteer have provided him with steady emotional and practical support. In addition to helping with grocery shopping, errands, and going to doctor's appointments, his volunteer visited Daralt weekly after a heart surgery.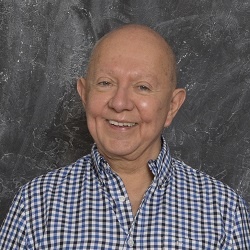 Having benefitted from one-on-one support, Daralt began to engage more with the community. A natural story teller with an interest in writing, Daralt took a big step and attended a Queer Elder's Writing Workshop hosted at Shanti's Mission location. The group immediately accepted Daralt and he received positive feedback on his writing, which has led him to join another writer's group and even read his work in public.
Since coming to Shanti, Daralt's life has changed dramatically. He is more confident about trying new things, making social connections, and dealing with health issues, though he continues to rely on his Care Navigator and Peer Support Volunteer for crucial emotional support.  Most importantly, Daralt feels he is not alone anymore as he continues to navigate this phase of his life.
"Shanti brought purpose and a meaning. You know when you are isolated, you just think it's pretty hopeless and you're discarded. My whole life has changed since I got involved with them," says Daralt.
Luisa
My name is Luisa and have been a client of Shanti's Women's Cancer Program for more than eight years. I was diagnosed with breast cancer 10 years ago and had my first surgery shortly after my diagnosis. My coordinator at Kaiser gave me a folder of resources for breast cancer patients, and I decided to contact Shanti because they were the most accessible. I was in my early 60s and still working. I was so depressed and worried.
As a Shanti client, I attended different activities like Tea Time groups, art therapy classes, and massage. During my recovery, I retired and my life started to revolve around my two young granddaughters.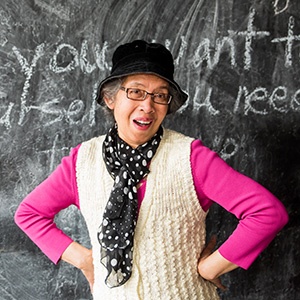 Four years ago, I was unfortunately diagnosed with breast cancer in the opposite breast. Again, I was depressed and worried. So, I contacted Shanti again for help because the care that I received from Shanti in the past was helpful and my Care Navigator listened to what I needed. The staff was friendly and easy to talk to. My Care Navigator connected me to Meals-On-Wheels for temporary meal delivery. I received comfortable garments to wear during my post-surgery recovery. I learned about different activities at UCSF Cancer Resource Center. Now that I'm retired and my granddaughters are older, I am able to stay very involved with Shanti's supportive programs. Not only have I attended groups like Nutrition Education and Cancer Divas letters to cancer writing support group, I also teach other Shanti clients how to crochet and I emcee our Mother's Day celebration.
I learned that eating right, being physically active and free from stress are very essential in fighting back cancer. My Cancer Divas and I didn't know each other at the beginning, but we have grown so close and trusting of one another. Through Shanti, I had the pleasure of meeting other cancer survivors and was able to connect, support, and develop friendships. We are able to non-judgmentally express ourselves through our writing and really listen to each other's experiences. Having friends to talk to and feeling cared for is the best medicine for a cancer survivor on her difficult journey. Being with Shanti makes me realize I am not alone. Shanti also gives me the chance to see the beauty of San Francisco by creating a walking group. I love going on walks across the Golden Gate Bridge with my Shanti peers.
I try to advocate for other cancer patients' needs. I always tell them to call Shanti, especially when they need more help than I can give. My close friend, who's also a Shanti client, has been connected to financial, food, and transportation assistance. Helping people gives me strength. Though I don't have cancer in my breasts at this time, I am still being treated for a rare type of blood cancer called Polycythemia Vera. It will be part of my life forever.
Shanti continues to help me in so many ways and has given me lasting friendships with many of the other Shanti clients. I have had the opportunity to develop new skills and grow in new directions.
Alexandra & Otis
Otis is a 13-year-old white and tan Jack Russell Terrier. Alexandra is a 48-year-old woman. They are the best of friends.
Alexandra lives with multiple disabilities and has extremely limited mobility. At four months old, Otis came into Alexandra's life as a service animal, and he has been by her side ever since. Otis is small enough to hop on Alexandra's lap and stay close to her as they zoom around in her electric wheelchair. Spend a few minutes with them, and you'd see how much the two absolutely adore each other.
"My life would have no meaning without Otis," says Alexandra. "He means the world to me. He gets me to be more open and outgoing. I suffer from anxiety and depression, Otis helps me to get out of that mode and get out of the house to meet new people."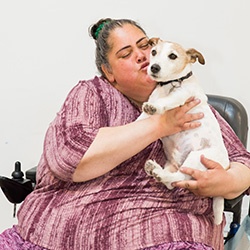 Like so many PAWS clients, Alexandra lives on less than $1,000 a month. PAWS provides services that enable Alexandra to keep Otis healthy. These services include pet food and flea medication at our Pet Food and Supply Bank, annual wellness exams, and up to $200 in veterinary service vouchers each year. Alexandra and Otis have regularly visited our free Ask the Vet Clinics, which provide an opportunity to consult with our Volunteer Veterinarians about pet health concerns. And to help keep Otis clean, Alexandra has brought him to our free dog washes where volunteers, often from local companies, bathe our clients' dogs at Pet Food Express.
Alexandra herself is an active volunteer in the community – she is a leader in her building's tenant association and was recently nominated for a prestigious role on a citywide council.
"I am so grateful to PAWS and its generous donors. If I didn't have PAWS, I wouldn't be able to care for Otis. PAWS keeps him happy and he keeps me happy," says Alexandra.
Shirley
Shirley is a 96-year-old woman who spends most of her time alone with her kitty in her condo she has rented since 1972. These days, she doesn't leave her home often or get as much social interaction as she once did. She suffers from health challenges that can accompany aging, such as nerve damage, deteriorating vision, and significant hearing loss. About two years ago, she came to Shanti after she learned about our LGBTQ+ Aging & Abilities Support Network. We first connected her with a staff member who provides warmth and compassion as he helps navigate her care and accompany her to appointments and errands. We also connected her to our Pets Are Wonderful Support program to provide pet food and other resources so she can keep her cat Missa happy and healthy.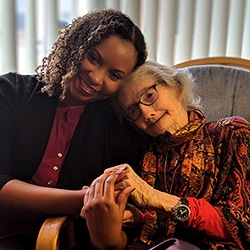 To provide additional companionship that helps reduce Shirley's isolation and loneliness, we matched her with a Shanti Peer Support Volunteer, Ashley. One or two afternoons a week, Ashley visits Shirley in her home to give much needed company and support. Though separated in age by more than half a century, the two have no shortage of fun together. Mostly, they sit and talk and spend a great deal of time laughing. Shirley tells Ashley about her day and stories of her past. Occasionally, they watch the news together, and Shirley loves it when Ashley reads to her—especially poetry by Alice Walker.
"I can't put into words what having Ashley visit me means," says Shirley.
Shirley is grateful for the myriad ways Shanti has supported her, reducing her isolation and providing critical resources for her and her beloved kitty companion.