CLIENT SPOTLIGHT: DARALT
Daralt, a 75-year-old long-time resident of San Francisco, was dealing with anxiety, depression, and isolation when a friend told him about Shanti two years ago. He had suffered much personal, professional, and financial loss during periods of his life. Daralt wasn't comfortable reaching out for support, yet he gained the courage to contact Shanti's LGBTQ Aging & Abilities Network. We connected him with a Care Navigator and a Peer Support Volunteer so that he wouldn't have to face his challenges alone.
Daralt's Care Navigator and Peer Support Volunteer have provided him with steady emotional and practical support. In addition to helping with grocery shopping, errands, and going to doctor's appointments, his volunteer visited Daralt weekly after a heart surgery.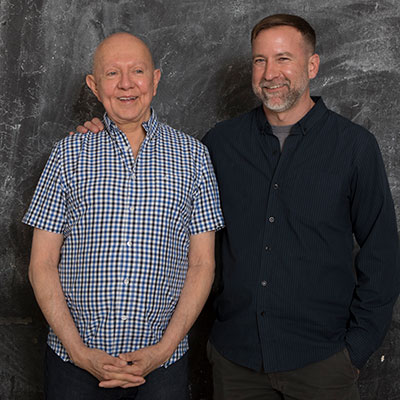 Having benefitted from one-on-one support, Daralt began to engage more with the community. A natural story teller with an interest in writing, Daralt took a big step and attended a Queer Elder's Writing Workshop hosted at Shanti's Mission location. The group immediately accepted Daralt and he received positive feedback on his writing, which has led him to join another writer's group and even read his work in public.
Since coming to Shanti, Daralt's life has changed dramatically. He is more confident about trying new things, making social connections, and dealing with health issues, though he continues to rely on his Care Navigator and Peer Support Volunteer for crucial emotional support.  Most importantly, Daralt feels he is not alone anymore as he continues to navigate this phase of his life.
"Shanti brought purpose and a meaning. You know when you are isolated, you just think it's pretty hopeless and you're discarded. My whole life has changed since I got involved with them," says Daralt.
REFLECTIONS ON 45 YEARS OF COMPASSION
In our 45th year of providing compassionate services to San Franciscans, members of Shanti's community share their reflections on how Shanti has made a difference in their lives and beyond.
Thirty years ago, Shanti was where I turned during the darkest hours of my HIV/AIDS and cancer journey, and received such needed and compassionate emotional and practical support. My relationships with my volunteers have been lifelong. Once I was able to, I became a Shanti volunteer, which provided me the opportunity to find fulfillment and purpose in giving back. The biggest surprise of all has been returning to actual employment, and becoming a part of the Shanti staff (in the PAWS Program), a chapter in my life I never dreamed of 30 years ago. There is no question I would not be who, where, and how I am today without Shanti. — Richard Goldman, Shanti Staff Member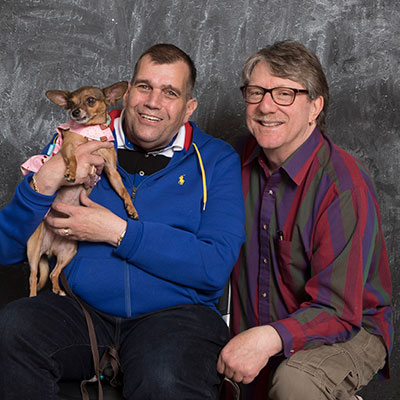 For 22 years, the Shanti community had been a positive force in my physical health, emotional growth, personal relationships (including with my support animal), and professional development. I'm very grateful for the good fortune of having had the trusted support Shanti provides me. — Chip Supanich, Shanti Board Member and Client
Prior to coming to my first volunteer training in 1994, my identity and activism often hinged on my difference from others. After that training, and since then as Peer Support Volunteer and staff member, I looked at myself, others, and the world in a new way: respecting difference while also embracing commonalities, empathy, and the innate human needs that all of us share. Shanti helped to change my entire perspective on life and how to live it. — Mark Molnar, Shanti Staff Member
We invite you to share your reflections on Shanti with us! To do so, please email communications@shanti.org. With your permission, we may share them in future publications, including our e-newsletters, website, and Impact Report.
SHANTI'S PRIDE
In June, the Shanti contingent vibrantly strutted down Market Street at the 49th Annual San Francisco Pride Parade. Together clients, volunteers, staff, friends, pups, and even LiLou the Pig celebrated this year's Pride theme, Generations of Resistance. This lovely morning was filled with community, connection, and compassion. Thank you to all who joined us.
Click here to see the colorful and festive photos!

Join us October 3, 2019 at the Palace Hotel in San Francisco as we celebrate 45 years of cultivating compassion in our community. Click here to learn more and purchase tickets!