CLIENT SPOTLIGHT: SANDRA & NALA
"She's the love of my life."
Sandra has a warm, big smile as she talks about Nala, her 10-year-old Terrier mix, and the fun they share together. They love to take long walks, swim, and garden. Dogs love to dig and Nala is no exception. When Sandra says, "Nala, dig a hole for me," Nala digs a hole with her little paw perfect for planting in just the place Sandra has pointed to. Nala even loves to bask in the sunshine and—just like Sandra—stop and smell the flowers.
Sandra, 54, is originally from El Salvador and primarily speaks Spanish. She lives in the Mission District with Nala and her two adult children. Nala came into their lives as a 2-week teensy puppy, whose mother was unable to breastfeed the litter. Warned that the pup may not survive, Sandra and her kids (then teenagers) took good care to nurture Nala and bottle feed her several times a day until she was weaned. Since then, Sandra has been on a harrowing journey with her health, and Nala has been by her side throughout.
In 2012, Sandra was diagnosed with breast cancer at Zuckerburg San Francisco General Hospital (ZSFGH). She was already dealing with anxiety, depression, and PTSD. The doctors recommended surgery, but her first decision was to decline surgery, let the cancer run its course, and eventually die. She had survived a different type of cancer before and knew she was in for a rough journey. She felt she was not getting clear, honest answers from her medical providers about how painful and difficult the surgery would be. Because of this, she did not want to go through with it. Sandra's Patient Navigator at ZSFGH referred her to Shanti's Margot Murphy Women's Cancer Program, and Sandra spoke with Millie, Shanti's Senior bilingual Spanish-English Care Navigator. She explained to Millie what was going on and asked Millie if there would be a lot of pain with the surgery. When Millie answered, "Yes," Sandra was struck by Millie's honesty and continued to talk with her about what was coming. The discussions with Millie helped Sandra change her mind and she decided to have the surgery after all. While Sandra was in treatment, Millie provided Sandra with care navigation, including intensive emotional support, language interpretation, and referral to much needed social services like financial and food support.
Sandra has been cancer free for five years.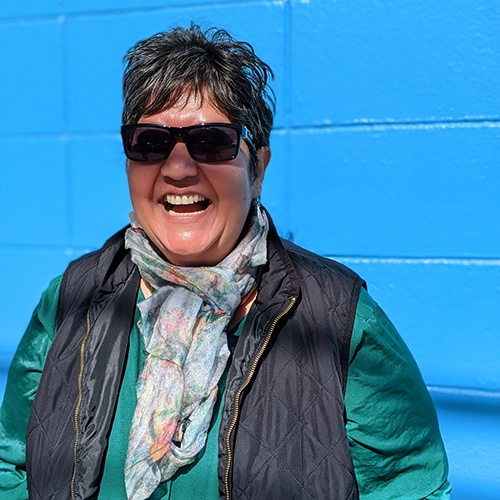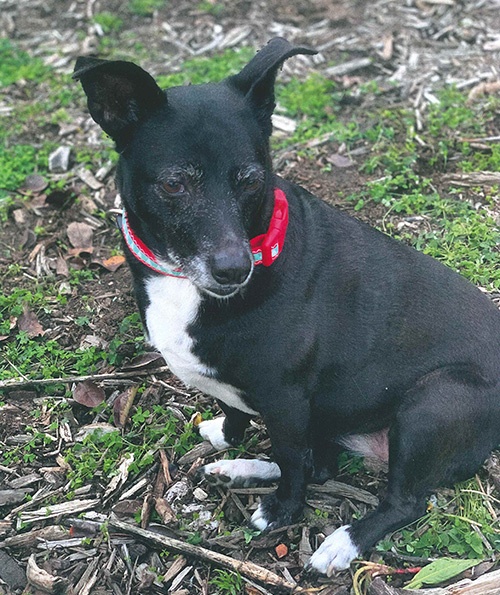 "Shanti has been a great help. Millie has been like a guardian angel," says Sandra. "If it wasn't for the support of people like Millie, I'd probably be dead."
Though gratefully in survivorship, Sandra continues to struggle with health challenges—she has a weakened immune system, diabetes, heart problems that affect her sleep, and vision impairment. Nala is a steady, comforting support for Sandra. "She's really sweet and understanding," says Sandra, who notes that Nala communicates with her expressive eyes and is incredibly intuitive—she just seems to know exactly what Sandra needs. Due to PTSD, Sandra gets nightmares. To help her wake up, Nala gently but firmly presses her small paw down on Sandra's body. When Sandra's anxiety overwhelms her and she goes to her bedroom to be alone, Nala follows her and stays with her. "If anybody told me a dog would play this role in your life, I wouldn't have believed it," says Sandra.
In addition to support from her beloved Nala and her two children, Sandra continues to receive survivorship support with our Women's Cancer Program. She is active in our health and wellness activities, and is especially fond of the massage, which greatly helps her anxiety and physical pain. Although no longer in intensive care navigation, Sandra knows she can call Millie if she needs to. Recently, Sandra asked Millie to help her enroll in our Pets Are Wonderful Support (PAWS) Program. She needed help to take care of Nala, who suffers from arthritis and was recently diagnosed with ligament problems in her back legs. Poor Nala was in so much pain she could barely walk, but thanks to the support of PAWS, Sandra can now provide medicine to Nala–and it has made a big difference.
PAWS also provides Nala with pet food, flea and tick medicine, supplements for her joints, and even regular nail trimming. Sandra says that the support from PAWS has helped decrease her anxiety because she doesn't have to worry about how she'll get food and medicine for Nala.
Our Women's Cancer Program and PAWS have given Sandra and Nala much-needed critical support, helping them overcome serious health challenges and stay with each other. "This dog has been through a lot with me. We are getting old together, too."
KID-POWERED HOLIDAY MARKET RAISES FUNDS FOR SHANTI
With a love of craft-making, an entrepreneurial drive, and spirit of philanthropy, a group of six kids ages 5-10 raised more than $500 at their Christmas Market fundraiser to benefit Shanti Project. Their grown-up friend Jody helped the kids coordinate their efforts. Together, they worked in the afternoons after school almost for a month making cards, ornaments, and baking cookies to sell. They even arranged to have Santa and Mrs. Claus at the Market to provide photo opportunities. To attract people to attend, they created a spiffy flyer and distributed it at their school and to their neighbors.
This was not the first time the kids have made and sold things to support a cause, but their Christmas Market was their biggest fundraiser so far. "Shanti Project was recommended to us as being one respected institution…committed to helping in the community," says Jody.  "Hopefully our work can inspire others to support Shanti Project, too."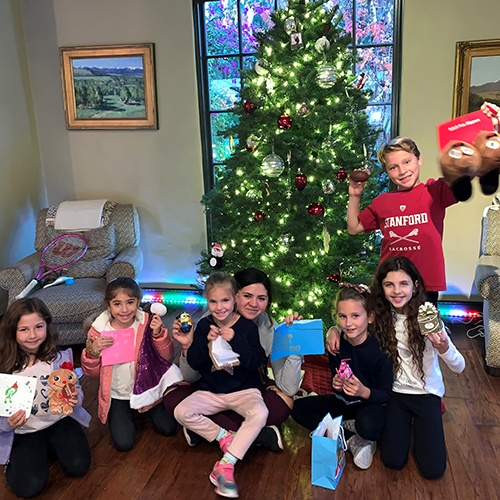 DONOR SPOTLIGHT: KRISTIN CROSLAND
We are excited to share our recent interview with Shanti supporter Kristin Crosland. Kristin says she felt immediately connected to Shanti's mission and was especially impressed with our breadth of services. As a pet lover, she was also really happy to learn about our Pets Are Wonderful Support (PAWS) program. In addition to making her own financial contributions, she has given her time and resources to help raise funds and awareness for Shanti. This past fall, Kristin hosted a Meditative Nature Walk at The Horse Park at Woodside to raise awareness of our mission as well as share ways participants can support Shanti.
What are you passionate about and what do you love to do with your time?
I care deeply for connections with people, animals, and the outdoors. I most value time spent with my family and friends, and I greatly enjoy equestrian sport. I am part of the management team of The Horse Park at Woodside, a fabulous non-profit organization that brings these passions together. A perfect day for me involves outside time with dogs, horses, people I love, and sunshine.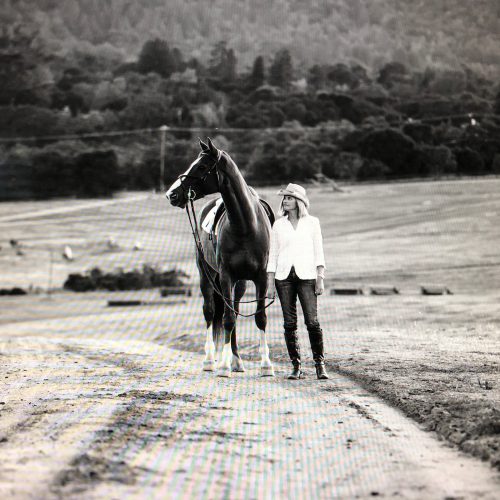 How did you become connected with Shanti?
I first heard of Shanti as part of an Avon Walk ceremony in San Francisco. I was a walker, team leader, and patient speaker for the event. Shanti was an Avon grant recipient. I found the quick reference to Shanti's mission intriguing as the ceremonial check was awarded, so I looked at Shanti's website afterwards. Shanti's commitment to support traditionally underserved populations particularly resonated for me.
What motivates you to support our work?
I live with stage IV breast cancer. I am incredibly fortunate that my treatments have been quite successful to date, but uncertainty inevitably persists. I recognize how privileged I have been to have access to the highest quality medical care available. I've also had significant domestic assistance from my loved ones at my times of highest need—when I was too weak to manage much of anything for myself or my family. I realize that many people don't have sufficient resources to manage themselves or their loved ones through serious illness, and Shanti helps fill that gap. I also appreciate Shanti's approach for staff, volunteers, clients, and donors: we are all part of the same ecosystem where everyone benefits from working together to reduce the burden of disease and to draw strength and positivity through communal effort.
Can you tell us about abreast and why you thought of partnering with Shanti for two events: the 2018 #abreast100milemonth, in which participants walked 100 miles throughout the month of October and raised funds for Shanti Project, and the Meditative Nature Walk in 2019?
I established "abreast" as a small, informal community to hosts interactive experiences and donate funds to non-profits aiding breast cancer patients. The purpose of the experiences is to bring people together in service for mutual support and to promote leading-edge medical information. Shanti has been an organization I'm proud to support and promote through abreast. The isolation and fear that serious disease can bring is shattering. Shanti helps its clients better access quality care and also brings the human touch that supports healing and makes treatment or disease management more bearable.
Why would you recommend others support Shanti?
Shanti offers a unique way for folks to have a direct impact. There are a multitude of volunteer opportunities with training to prepare folks to assist those in need. You can see in Shanti's financial statements how thoughtfully they deploy funds and how well they use their volunteer corps. I like that there are a variety of programs for restricted donations if someone feels aligned with a certain aspect of Shanti's offerings. The cancer program initially attracted me. There's also exciting opportunities with unrestricted donations. I've done my giving that way because the broad commitment of the whole Shanti staff–and the range of programs Shanti offers to make life better for people– is terrific. The impact is direct, personal, and kind.
YOUR DOG'S FAVORITE GALA!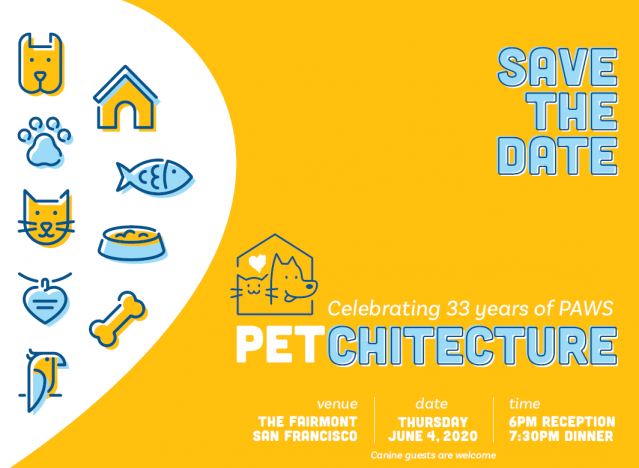 What better way to celebrate 33 years of PAWS than to join us at Petchitecture, our signature canine-friendly gala. This year, our event will be held on June 4, 2020 at The Fairmont Hotel in San Francisco.
The reception will begin at 6 pm and a light dinner and formal program will begin at 7:30 pm. Don't miss your chance to have a dog photobomb you in the photo booth, participate in our pet-oriented silent auction, win a custom-made pet habitat, and bid to win Pet Idol of the Year.