Meet the 2023 PAWS Dog Idols
We are delighted to introduce you to our four pawesome canine Pet Idols: Lady Bird, Murphy, Slinky, and Lila. As the spokesdog, Lady Bird will tell you about herself and her pet family.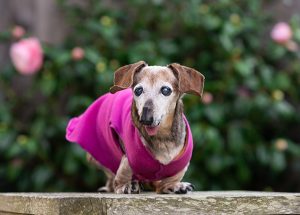 Hi, I'm Lady Bird, this year's PAWS Pet Idol, and I was chosen to be the "SpokesDog" for my family. I have two doggie brothers, Slinky and Murphy, and one doggie sister, Lila.
My name full name is Lady Bird Viola, because I my front legs make me look like a little bird and because Viola Davis had just won the Academy Awards when I got adopted by my moms!
I am almost 17 years old so I am certainly an elderly gal, and I have no teeth, but I look much younger. They tell me that I am a dachshund, a noble breed, and they treat me like royalty. I have been with my humans for six wonderful years now, my life before my wonderful family was more unpredictable. I was found as a stray in Fresno (mind you, I have no functional feet—so it was really hard as a stray!) and so I ended up in the shelter—when a kind but misguided person, who was trying to foster too many dogs, took me into her home. After 5 years of living there, with severe neglect to my health, she had to give me up as she had to give up all of her foster dogs because she couldn't care for us all. My journey next involves the angels at Muttville Senior Dog Rescue, who took me in when I left Fresno, and where I received the very best possible care for my severe dental disease, pneumonia, parasites, and poor nutrition.  I did eventually have to have all of my teeth removed due to a severe dental infection but it has not stopped me from loving to eat and play with my toys. When I arrived at Muttville, the no-nonsense, kind-hearted director Sherri Franklin, recognized that I had special orthopedic needs due to my severe arthritis. I can only walk by scooting along since my back legs cannot straighten out and my front feet dangle, without proper wrist joints, so my front paws are more like flippers—and I walk like a tiny seal.  This is how I first met my moms, Ilana and Michelle.  My mom Ilana offers physical therapy and rehabilitation at her clinic in Pacifica, A Well Adjusted Pet, and she helps some of the neediest senior mutts at Muttville—and so I was sent to Rehab with her but she never returned me!
It was love at first sniff!  And my adoption was made official in April of 2017!
My favorite thing to do with my family is to ride in the pet stroller with my brother Murphy or to get cozy in my pet sling with my one of moms carrying me on our walks at Candlestick park, Heron's Head, or Golden Gate Park.  I also really love to roll on my back in the grass on a sunny day with my sister Lila!
I love to kiss my mom Ilana on the lips and I squawk and squeal for her to pick me up when she comes home from work. My other mom Michelle is home with me more—she is a retired nurse—and she cares for me during the day. She feeds me the crusts off of her grilled cheese sandwiches at lunch, which I LOVE!
And, I love sitting next to them on the couch while watching detective shows sharing a bit of popcorn, and then burrowing and cuddling with them at bedtime. And I especially love when my moms let me ride "shotgun" in the car with them when we go on road trips!
My bond with my moms is extra important—since I cannot walk very far on my own at home.  They always know if I have to go outside to potty or if I want a drink of water by how I squawk at them—I depend on them for everything.  And they also depend a lot on me when they are sad or worried—I do silly things to cheer them up like attacking my stuffed toys with my toothless beak to make them laugh.
I love to travel with them and ride in the sling on the airplane on their laps.  We have been on many fun California vacations as well as trips to Chicago, Denver, and New York City, and I've even been to a few conferences with them!  But, I didn't like it when my mom Ilana was learning doggie Acupuncture and practicing on me!  But I have to admit, I did feel better afterward!
Our family is unique because I am the smallest—but I am the leader of our pack, and all of the others respect me even though I have no teeth or functional legs!
I have been with my moms to PAWS Petchitcture many times before and I have been treated to the best of foods. I even shared some pasta and a water glass with the esteemed guest, Mrs. Diane Wilsey, who once held me during dinner and even took me with her up onto the stage to help her present an award to our dear friend John Lipp a few years ago!
My absolute favorite treat is anything my moms are eating—however, I do really love Stella and Chewy's Chicken Weenies a lot too!
I am so lucky because my moms have always cooked yummy fresh food for us—so we have really good meals twice a day and always lots and lots of snacks!
I really love being a companion animal so that I can make my family laugh with my silliness when they are sad—and I love to give cuddles to my moms when they need me the most. My mom Ilana is going to have a big surgery soon—and I plan to be there for her when she is recovering, and I will help both of my moms get through this very hard and scary time.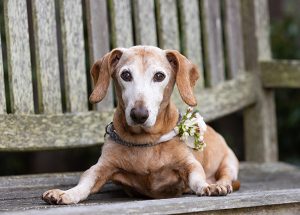 I think that it is the biggest honor a dog could aspire to, having been chosen as this year's PAWS Pet Idol & Spokesdog for my family pack. I want to tell you about them now because we all come from backgrounds and different rescue groups and we all have different special needs. And I really want to give a shout-out to the people who helped rescue each of us and helped us to find our forever family with Michelle and Ilana:
My older brother Murphy was adopted from Peace of Mind Senior Dog Rescue in Pacific Grove, CA when he was 15 years old—and he is now 18 1/2 years !!
He was really sad to leave his first mom when she went into hospice care but he loves living with our family and too loves riding in the pet stroller on walks and going on 'sniffaris' in the grass.  He also loves, loves, loves to eat—and he always gets a second breakfast!  Murphy's favorite treat is also Stella and Chewy's Chicken Weenies but he also really loves Charlee Bears.  For his 18th birthday, he got special birthday cookies from YumYum4Dogs and he absolutely loved them!  & I got to help him lick the frosting!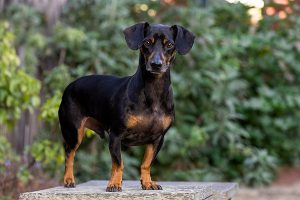 My younger brother, Slinky, is about 4 years old and he was saved by the very kind people from Rocket Dog Rescue, in Oakland, CA who pulled him right out of a high-kill shelter in Los Angeles, after being hit by a car as a stray.  He was so badly injured that he had to have his right back leg amputated along with his broken tail and was also neutered at the same time!  It was really rough!
Then the poor guy got a severe case of kennel cough pneumonia while he was recovering from surgery.  My moms took turns sleeping with him downstairs away from the rest of us, nursing him back to health, and now he is springing around the house like a real Slinky should!  He runs up and down pet stairs to our moms' bed and he barks for them to come when he is ready for one of them to cover him up with a cozy blanket!  He's a smart one- and he LOVES to eat all snacks and treats—so he doesn't really have a favorite one.
Lastly, I have one younger 5-year-old sister, Lila, who was rescued off the streets as a baby dog, by the amazing volunteers at the Association for Animals and the Environment, who run the Bethlehem Animal Shelter in the West Bank, in the Palestinian Authority.  They don't have a lot of resources for animal care and control of stray dogs like Lila's mom. And so Lila was born on the street and found alone at only 2 months of age scared, hungry, injured—and looking for food in a garbage dump in the middle of the night. This is why she is named Lila, which means nighttime in both Hebrew and Arabic.  Lila is a biblical breed, an original Bedouin shepherd dog, that is also called the Canaan Dog in Israel and Palestine.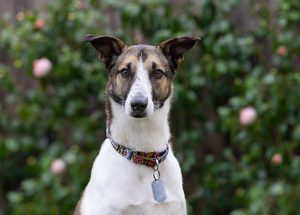 My moms learned that Lila's shelter had found a flight volunteer ready to bring her to San Francisco to start a new life and they were looking for a foster family for Lila, so they volunteered to foster Lila when she arrived and they raised money to help bring her to America.  She came to us with a lot of fear and she was still recovering from her injuries.  My moms have helped her to heal from both her physical scars and emotional scars as well.  Now Lila is so lucky because she goes to "school" every day and gets picked up by a "school bus" which takes her to play with her dog friends on a ranch in Montara!
I love Lila very much and she likes to play a lot with other dogs that she knows- Sadly she can still be very afraid of new dogs and new situations, but she has come a long way from when she first moved into our home.  I know that Lila needs extra love because she lost her mother at such a young age and sometimes I even share a little of my leftover breakfast with her.
So that is the story of our family pack—my moms never have any fewer than 4 dogs in our home, and we always make room to help the dogs who are most in need of care and rehabilitation both emotionally and physically, and in return, we all get to live as one big happy family!
Lila and I both have social media accounts and you can follow us at:
@LadyBirdViola2018 and @LilaFromBethlehem
Thank you for listening to our story—and I hope that we can help to raise some much-needed funds for PAWS to help other pet parents who are in need of the love and support of their animal companions when they are stuck at home sick and not feeling well.
We are the best medicine anyone could prescribe!
And it's true what they say, we pets truly are wonderful support!