Client Spotlight: Johana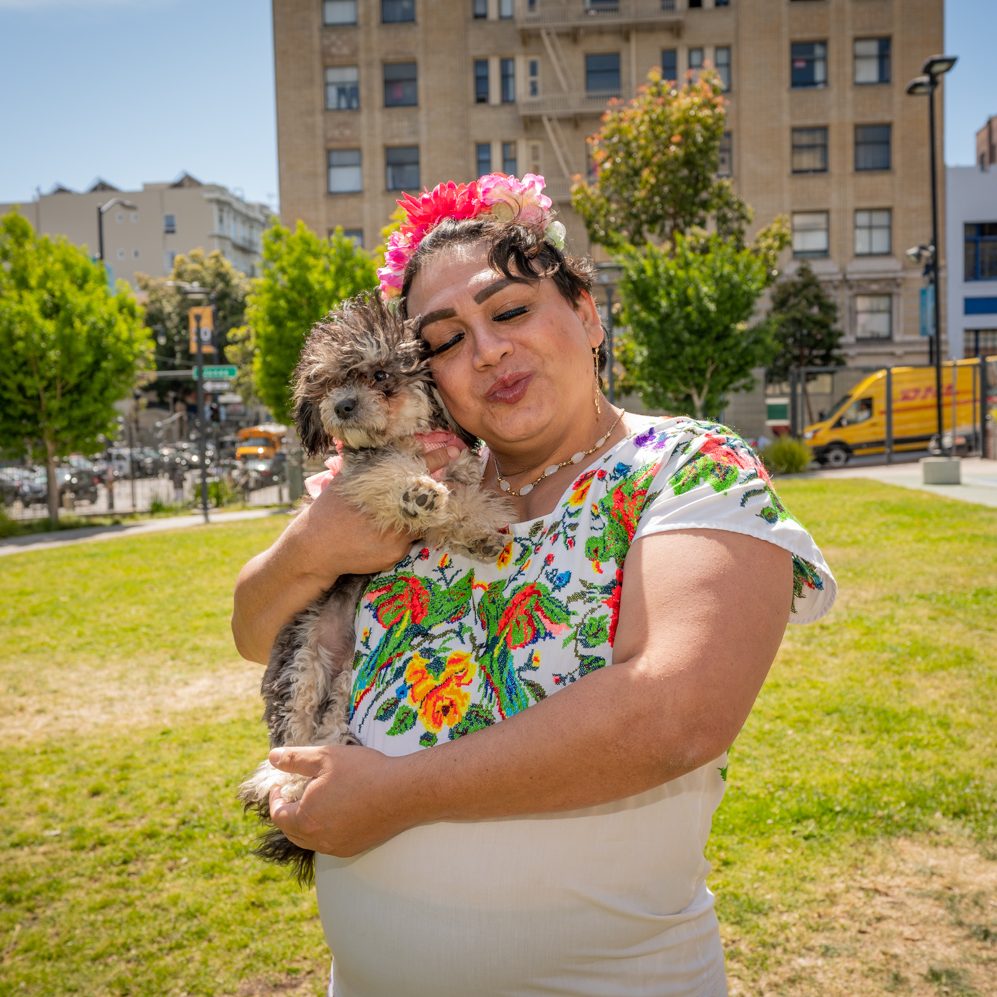 Johana is a community activist who enjoys spending her time participating in social networks, being an influencer, and educating members of her communities. In her home country of El Salvador, she was trained in HIV, human rights, and healthcare for transgender people. After she moved to San Francisco six years ago, she became involved with La Voz Latina. Founded in 2005, La Voz Latina provides social services to monolingual Spanish-speaking immigrants with low-income in the Tenderloin—the neighborhood where Johana lives alone with her two dogs.
Johana came to Shanti two years ago, following a cancer diagnosis. She is now connected with Shanti's Margot Murphy Women's Cancer Program and our HIV Programs, where she finds community and belonging. This interview with Johana about her experiences with our Women's Cancer Program was conducted in Spanish and translated into English by Shanti Senior Care Navigator, Millie Ruiz.
What brought you to Shanti?
I was diagnosed with Hodgkin Lymphoma cancer in September 2020. My social worker at Zuckerberg San Francisco General Hospital referred me to Shanti. After that, a care navigator from Shanti's Women's Cancer Program contacted me and explained to me about their free services. I was interested in Shanti's variety of services especially I felt that the care navigator treated me with respect. She was caring and open minded. Also, I knew that she was able to connect me with other women with cancer who go through a similar journey.
What kind of support have you received from Shanti?
During my toughest times and when I was going through cancer treatment, I was able to receive many services and support from Shanti. This includes:
Emotional Support: My care navigator reached out to me regularly and visited me at my home.
Food support: My care navigator sent me Safeway gift cards so I could buy extra healthy foods.
Transportation support: My care navigator sent me taxi vouchers so I could use it to and from my medical appointments.
Wellness activities: Joining the activities made me feel that I'm not alone. In the Spanish Health Chat Group, I met other women via zoom. These women went through similar experiences and this group gave me the opportunity to talk about my fear. It's a safe space where I felt the other women in the group would understand me. I have learned to take care of myself like eating healthy, putting on makeup, and making candles for fun. These classes at the Women's Cancer Program opens the door for me to have heterosexual friends because in the transgender community I do not have many friends.
Do you feel connected to a community? How so?
I feel a bit connected with the trans community and now I feel even more connected with the heterosexual women in the Spanish Health Chat Group because they are also diagnosed with cancer, they are immigrants, and they have work and financial problems. I feel that exchanging the experiences with my groupmates could improve my life as well as others and the society.
Being connected to this cisgender (heterosexual) group gives me the opportunity to educate people to be more empathetic with transgender people because I know that in the Latino community many are unaware of the transgender people. I would like people to know more about the trans group. I'm glad and comfortable with how the Spanish Health Chat Group welcomed me to the group with respect.
How does being part of Shanti help you feel connected to others?
Before I came to Shanti I felt alone, depressed, and no one listened to me. I didn't go out. I felt that I was going to "die." If Shanti did not exist, other women would feel the same way I did. When my care navigator called me and invited me to participate in the classes, I was curious. Listening to other people's stories, I began to be more active, focus on myself and eat healthy. I don't feel alone anymore. I thank Shanti for everything they do for us. The tools that they gave us and the educational materials were helpful and we could review at home. I believe the community, the health care system and women living with cancer would benefit from Shanti's services. The most important thing for me is that Shanti opens the door to transgender people. Shanti does not exclude anyone because of their sexual identity or gender and that they are not like other agencies that discriminate against us, especially Latinas.