2023 James C. Hormel Community Spirit Award Honoree: Juan Pablo Gutiérrez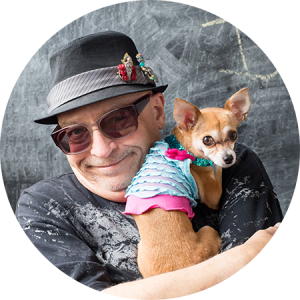 This year, Shanti presents the James C. Hormel Community Spirit Award posthumously to Juan Pablo Gutiérrez (August 3, 1953 – December 26, 2021), in continuing the tradition of recognizing individuals that place themselves in the service of others through activism in their respective communities.
Originally from San Antonio, Texas, Gutiérrez was an artist, poet, actor, playwright, theater director, museum consultant, bilingual educator, Meso-American culture specialist, and AIDS activist.
In 1987, at a time when no funding was being channeled to the Latino gay men's community for AIDS education and prevention, Gutiérrez co-founded CURAS (Community United Against AIDS/SIDA) in the Mission District.
Social justice causes propelled Gutiérrez's trajectory since his arrival in the San Francisco in 1983. He joined many other Latinx community activists, who he knew through his national networking in the areas of community organizing, Latino politics, Chicano/Latino art, and grass-roots theater. A Latino renaissance of enormous artistic production, and the rich milieu of political activism which La Misión represented in the 1980s, was indeed the perfect environment for him to evolve many projects benefiting his community. He was a Spanish language translator for El Tecolote newspaper. In 1985 Juan Pablo involved himself in the production of the play El Corazon Nunca me ha Mentido, a play by Manlio Argueta addressing the civil war in El Salvador. His work with various organizations in the Mission District led him to be director of the Mission Cultural Center for Latino Arts in the late 1980s.
Throughout the years he was recognized for many of his efforts with various awards, some of which include the California Arts Council Heart of the Arts Award (1995), the Founder's 25th Anniversary of the Mission Cultural Center for Latino Arts Special Recognition Award (2003), Águilas Lifetime Achievement Award (2011), and the Mexican Presidential Medal of Honor (2018) presented tri-annually to thirty individuals globally distinguishing themselves for promoting Mexican culture and arts.
It is almost certain for anyone living in San Francisco being touched by Gutiérrez's community work, especially through the enormous effort he poured annually into the Mission District's Día de los Muertos Ritual Procession. He was the principal in getting that under way for four decades. Forming El Colectivo del Rescate Cultural, he gave rise to the phrase "nuestros muertos no se venden/our dead are not for sale" signifying his opposition against corporate sponsorship of this well-known yearly event. The event is scheduled again this year on Thursday November 2 in the Mission District continuing Gutiérrez's vision and tradition.
Written by Luis de la Garza