Shanti Welcomes Our New CEO: Kimberly Scrafano
April 2023
It is with great excitement that we announce that the Shanti Board of Directors has named Kimberly Scrafano as our Chief Executive Officer. She is transitioning into the role beginning this month.
Kimberly will be a strong steward of Shanti's values and mission. She has proven depth as an authentic and inclusive leader, serving most recently as the CEO of the Mechanics Institute, and prior to that serving as the President of Calidad Industries and Chief Program Officer of Goodwill Industries of the Greater East Bay.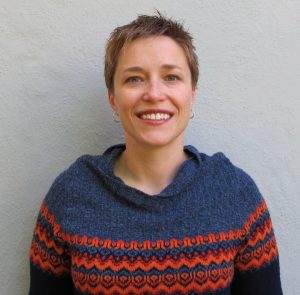 Her professional and personal experience aligns with Shanti's breadth of work in our community. She has worked as a consultant for youth services at one of the country's oldest and largest HIV/AIDS organizations (Gay Men's Health Crisis in New York City) and as a state and local policy manager at the San Francisco AIDS Foundation. She is also a licensed acupuncturist, volunteering her skills at a women's cancer clinic. Kimberly lives in Alameda with her wife and two children and three pets.
"I feel very honored to have the opportunity to join the team at Shanti Project," said Kimberly Scrafano. "I am very committed to the mission and programs of Shanti and have dedicated my career to ensuring equitable resources for those in need and cultivating genuine connections to support health and well-being. I am grateful for the confidence the Shanti board and staff have shown in me to help lead the organization and continue to grow on the solid foundation and history of service that Shanti has in the community."
Kimberly replaces Charlie Meade, Interim Executive Director, who has served in the role since August 2022. Charlie will be stepping back full-time into the role of Chief Development Officer.