Community Connections: Shanti's PAWS & Full Belly Bus Partner During the Pandemic
Pictured: Ali Sutch, PAWS care navigator and FBB volunteer dog trainer, with her dog, Paisley.
PAWS recently caught up with Paula Benton, executive director of Full Belly Bus (FBB), an all-volunteer nonprofit dedicated to providing "Care Without Conditions" to pet owners striving to end or prevent their homelessness. PAWS and FBB have partnered during the coronavirus pandemic to reach even more San Franciscans in need of great care.
Tell us more about Full Belly Bus.
Paula: I'm so excited about where Full Belly Bus has been and where we're going. Thanks to our successful pilot partnership with Mission Navigation Center in 2015, Full Belly Bus has grown into an all-volunteer, nonprofit charity dedicated to providing "Care without Conditions" to pet owners striving to end or prevent their homelessness. Today, FBB's Mobile Pet Care Team provides free veterinary care, behavior training, pet food, and much-needed supplies such as leashes, collars, harnesses, and warm winter coats to pet owners in five San Francisco Navigation and SAFE Centers. FBB also offers a monthly Mobile Pet Food Pantry delivering food and supplies to the Sanctuary Shelter and SF VA Downtown Clinic. 
You have tripled your outreach during the COVID-19 pandemic. How were you able to ramp up your efforts?
Paula: With loads of help! Last April, anticipating the forthcoming need, Full Belly Bus partnered with PAWS to create a program called Food Is Essential. PAWS donated the initial dog and cat food, and FBB distributed the individualized care packages safely curbside at St. Anthony's in the Tenderloin twice a month. At first, only a handful of pet owners took advantage of our combined efforts. But now, just four months later, FBB distributes more than 2,000 pounds of dog and cat food monthly to countless pet owners experiencing homelessness or living in SROs. And Food Is Essential now extends our "full belly" reach even further by providing pet food to the San Francisco Homeless Outreach teams and SF Human Services Agency who support pet owners living in the new city-implemented hotels during the COVID-19 emergency.  
How has PAWS been able to support those efforts/FBB's mission?
Paula: Inspiration! As a San Francisco pioneer in helping people care for their pets, PAWS was our ideal model in creating FBB. More than ten years ago I was organization-hopping, knocking on doors, saying, "I want to help pet owners in need." Many made me feel I was wasting their time. But Katherine D'Amato, director at PAWS, welcomed me and my very green do-gooder enthusiasm. When I told Katherine I didn't know precisely where I fit in this avenue of animal welfare, she said with warm encouragement that I'd figure it out. She was right. The innovation of San Francisco's interim housing facilities like the Navigation Centers and city-implemented hotels helped me find my niche. 
Anything else to share?
Paula: Oh YES! In addition to our Food Is Essential partnership, FBB has [welcomed] dog trainer and PAWS care navigator Ali Sutch to join us [as a volunteer]! We are developing four free, non-sequential training classes for dog owners living in Navigation Centers and city hotels. Designed to be fun, functional and enriching, these relationship-building classes highlight the benefits of positive reinforcement training. Ali's compassionate understanding of the crucial human-animal bond, precise communication skills, keen analytical eye, and amazing training "chops" make her a dream collaborator in the creation of these classes. FBB is lucky to have found someone so dedicated wholeheartedly to providing positive reinforcement training techniques to pet owners who otherwise couldn't afford them. Thank you, Ali and PAWS!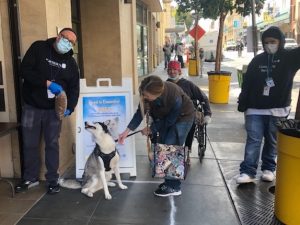 St. Anthony's volunteers and events assistant manager Tim Costigan (left) help distribute pet food at "Food Is Essential." Photo courtesy of Paula Benton.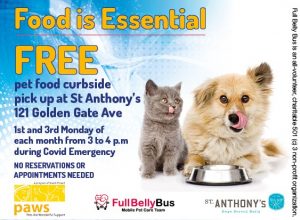 Food Is Essential is a collaboration between Pets Are Wonderful Support, Full Belly Bus, and St. Anthony's.