Richard's Story and the Healing Power of Connection.
Since Shanti's inception, building personal connection has been at the heart of what we do. Richard, a client of Shanti's HIV Programs, has found community-building and providing peer support as his unique form of healing and self-care. After overcoming a number of barriers, Richard has made it his mission to ensure no one has to face stigma, isolation, or any number of life's greatest challenges alone. 
Community work like Richard and Shanti's is so vital, because as we have known all of these years, human connection—although no cure—is powerful and healing. Continue reading to learn more about Richard and his work.
Q&A with Richard
How did you get connected with Shanti and how long have you been a client?
I was a longtime volunteer with Project Open Hand in their grocery center, which is located downstairs from Shanti Project on Polk Street. Over the course of many months, I became acquainted with several Shanti Project Care Navigators as they shopped with, and for, their clients. They were interesting people. I respected the way they carried themselves, and couldn't help but notice the care and kindness which they demonstrated with their clients. I was in remission from Substance Use Disorder at the time.
Unfortunately, I relapsed into active usage in 2015. Three years later, the chaos ended as I found myself in County Jail, alone, frightened, totally devastated, and desperate for help. I reached out to Talia Roven of Shanti Project. Talia was one of the Shanti people I had met several years earlier. She accepted my call that day, September 4, 2018. I became a Shanti Project client, and the miracle of transformational change began.
What barriers or obstacles were you facing in your life at that time?
When I reached out to Shanti, it was at the end of a devastating three-year period of IV methamphetamine use, alcoholism, mental health problems, unaddressed grief issues concerning my 11-year-old son Sean's death, non- adherence to my HIV treatment regime, my housing was in jeopardy, finances were in shambles, SSI benefit problems, beginning stages of Congestive Heart Failure, complex legal entanglements, stigma, and isolation. Quite a load.
That is quite a load. How did Shanti support you through this?
I have had contact with many people in the Shanti organizational structure. My direct care provider is Talia Roven with Shanti's HIV services, but I have also had interactions with the HCV people, as well as Shanti support staff in my role as a council member of the San Francisco HIV Community Planning Council. My acuity is low, and I say that with no hubris. I have progressed to the point where I basically "check-in" with Talia periodically, sometimes with a linkage question, but mostly for the level-headed, non-judgmental support I always receive for whatever issue I may be presenting at the time.
In working with Talia, I was always reminded that the decisions were ultimately mine. There were suggestions, open-ended questions, and affirmations, but in the end, I had autonomy. That was the key. I was never told what to do, or given mandates, or not listened to. My thoughts and ideas were valued and encouraged.
Learning new coping mechanisms after years of self-defeating behaviors took time. The patience and understanding shown to me by Talia were impressive, and much needed. In hindsight, the journey has been about helping me learn to make my own decisions, to sit with and process discomfort without masking it with illicit substances or negative behaviors, that it was ok to feel what I was feeling, and eventually, to be able to navigate life on life's terms.
Tell us more about your community work.
Let me start by saying that the community work I do is an integral part of my self-care. During my struggles I was a consumer of all the services I am about to mention. I am now in the unique position of being able to give back to the community what was freely given to me. This work includes:
Council member with the San Francisco HIV Community Planning Council, a mayoral appointment, Co-Chair of its Community Engagement Committee, and represent the council in End The Epidemics Steering Committee meetings. The work done by these committees helps to maintain and improve model programs of care for people with HIV/AIDS in San Francisco, Marin, and San Mateo counties.
Group member of End Hep C S.F. Prevention, Testing, and Linkage group as well as its Policy and Advocacy group.
Member of S.F. Hep C Taskforce
Member of Budget Justice Coalition
Member of Mental Health Association of San Francisco
Warmline trained counselor
UCSF NOW STUDY intake and screening specialist
UCSF DeLiver Mobile Care Unit Outreach worker
San Francisco AIDS Foundation harm reduction center trained volunteer and mobile syringe access site worker
Community outreach for St. James Infirmary, as well as volunteer at their weekly needle exchange harm reduction supply and care site.
Member of the San Francisco chapter of the Compassionate Friends Support Group, a group designed for bereaved parents of deceased children. I help facilitate these difficult groups.
Student at City College of San Francisco in the Addiction and Recovery Counseling Program
Graduate of San Francisco State University (RAMS) Peer Specialist Mental Health Entry and Advanced level certificate courses
What does community mean to you?
Most forward thinkers have come to realize that in order to help people we must look at the whole person, not just what we may perceive as their "issue." This trauma-informed care helps us to understand a person's life experiences, and allows us to deliver effective care. I think the community can be healed by this approach also. I believe that as a community we are only as strong as our "weakest" links. Therefore, everyone needs to be at the table when we are searching for solutions.
If any of us are excluded, stigmatized, ignored, or denied care, then we all stay sick. It takes a village. I was cared for, nurtured, listened to, and people believed in me, which allowed me to believe in myself. As the result of that, I am able, and more than willing, to branch out into my community and try to spread that same message of hope and understanding.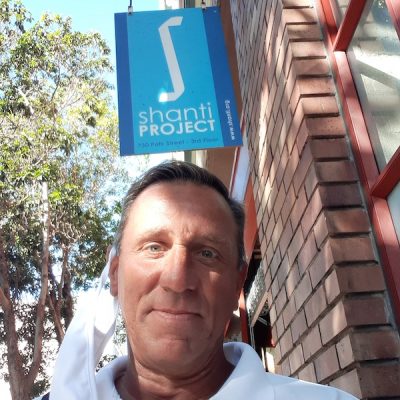 I am a firm believer in Peer Advocacy, Peer Navigation, and the bonds people can build through shared experiences. The practices of cultural humility, empathy, racial equality, and myriad other social issues are areas where I believe my tenacity, and desire to serve and affect change, are best put into practice.
What drew you to this calling?
My addictions, and the belief systems I built up around them, helped to create an extremely selfish person. I only ever cared about my needs, my wants, my thoughts, my desires. I think Substance Use Disorder is characterized by selfishness and isolation. I was an example of self-will run riot.
This "calling," this desire to help others, allows me to get out of self, to think of others instead of myself. Don't get me wrong, I am a work in progress. But my attitudes and actions are vastly different from what they were when I began this journey of change.
Service is the cornerstone of my belief system. There is no better way to show my appreciation and gratitude for the life I have been given than in the act of "giving back," paying it forward. Not only does it help the world around me, but it keeps me well by doing so.
"You cannot keep it unless you give it away."  I believe that I receive a daily reprieve based on the fitness of my spiritual condition.
How has Shanti supported you as you pursue community-building and peer advocacy?
I was always encouraged to build up my network of support. I am a member of Alcoholics Anonymous. I sponsor men in their recovery process, as well as bring meetings into places such as Detoxes, treatment facilities, and locked psychiatric units in hospitals. Along with this, my Shanti care provider also suggested that the rooms of AA are not the only places where people are inspired to alter their courses. She supported me in the belief that people in the community need to see the choices I make every day to keep pushing forward, to keep fighting, to allow change to happen in their lives as well.
My Shanti care navigator, who provided great care and support, once gently reminded me, 'remember, change comes from the inside out, not the outside in.' Once I started to understand, and practice that, I became much more in touch with myself, which allowed me to give freely and more openly to others.
This type of support helped me to stay the course when things got tough, as they will in life. Talia also suggested that I am the person I am today as much as a result of the lows, as the highs. This thought proved invaluable in my coming to accept all of myself as I am, and understanding that all of it is ok.
What does Shanti mean to you?
Shanti, in particular in the form of HIV Care Provider Talia Roven, responded to my desperate plea for help. I was at the lowest point you can imagine. Since that time, Shanti has nurtured me, gently guided me, supported me, encouraged me, and believed in me. My confidentiality was scrupulously protected, and everyone that I have been involved with at Shanti has been honest and transparent every step of the way. I have built a broad base of support in the community, but Shanti is where it all started. My life is beyond my wildest dreams today, and still growing. I am proud, and grateful, to be part of Shanti. Thank you, Shanti, and thank you, Talia Roven.