Client Spotlight: Sandra & Nala
"She's the love of my life."
Sandra has a warm, big smile as she talks about Nala, her 10-year-old Terrier mix, and the fun they share together. They love to take long walks, swim, and garden. Dogs love to dig and Nala is no exception. When Sandra says, "Nala, dig a hole for me," Nala digs a hole with her little paw perfect for planting in just the place Sandra has pointed to. Nala even loves to bask in the sunshine and—just like Sandra—stop and smell the flowers.
Sandra, 54, is originally from El Salvador and primarily speaks Spanish. She lives in the Mission District with Nala and her two adult children. Nala came into their lives as a 2-week teensy puppy, whose mother was unable to breastfeed the litter. Warned that the pup may not survive, Sandra and her kids (then teenagers) took good care to nurture Nala and bottle feed her several times a day until she was weaned. Since then, Sandra has been on a harrowing journey with her health, and Nala has been by her side throughout.
In 2012, Sandra was diagnosed with breast cancer at Zuckerburg San Francisco General Hospital (ZSFGH). She was already dealing with anxiety, depression, and PTSD. The doctors recommended surgery, but her first decision was to decline surgery, let the cancer run its course, and eventually die. She had survived a different type of cancer before and knew she was in for a rough journey. She felt she was not getting clear, honest answers from her medical providers about how painful and difficult the surgery would be. Because of this, she did not want to go through with it. Sandra's Patient Navigator at ZSFGH referred her to Shanti's Margot Murphy Women's Cancer Program, and Sandra spoke with Millie, Shanti's Senior bilingual Spanish-English Care Navigator. She explained to Millie what was going on and asked Millie if there would be a lot of pain with the surgery. When Millie answered, "Yes," Sandra was struck by Millie's honesty and continued to talk with her about what was coming. The discussions with Millie helped Sandra change her mind and she decided to have the surgery after all. While Sandra was in treatment, Millie provided Sandra with care navigation, including intensive emotional support, language interpretation, and referral to much needed social services like financial and food support.
Sandra has been cancer free for five years.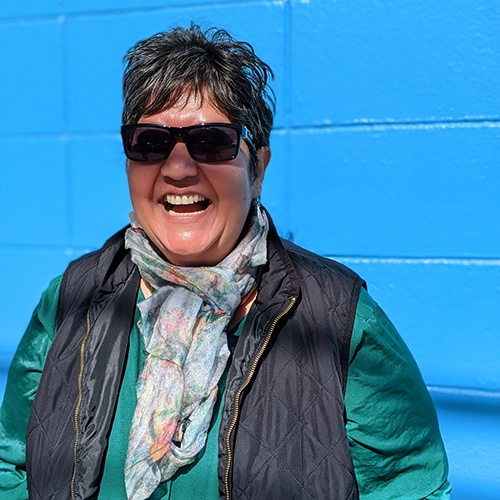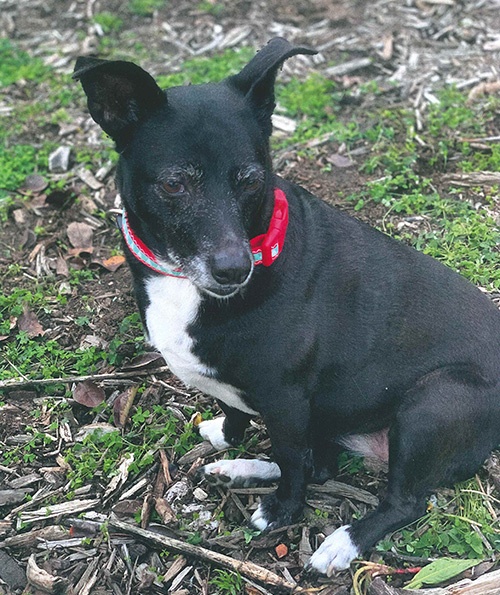 "Shanti has been a great help. Millie has been like a guardian angel," says Sandra. "If it wasn't for the support of people like Millie, I'd probably be dead."
Though gratefully in survivorship, Sandra continues to struggle with health challenges—she has a weakened immune system, diabetes, heart problems that affect her sleep, and vision impairment. Nala is a steady, comforting support for Sandra. "She's really sweet and understanding," says Sandra, who notes that Nala communicates with her expressive eyes and is incredibly intuitive—she just seems to know exactly what Sandra needs. Due to PTSD, Sandra gets nightmares. To help her wake up, Nala gently but firmly presses her small paw down on Sandra's body. When Sandra's anxiety overwhelms her and she goes to her bedroom to be alone, Nala follows her and stays with her. "If anybody told me a dog would play this role in your life, I wouldn't have believed it," says Sandra.
In addition to support from her beloved Nala and her two children, Sandra continues to receive survivorship support with our Women's Cancer Program. She is active in our health and wellness activities, and is especially fond of the massage, which greatly helps her anxiety and physical pain. Although no longer in intensive care navigation, Sandra knows she can call Millie if she needs to. Recently, Sandra asked Millie to help her enroll in our Pets Are Wonderful Support (PAWS) Program. She needed help to take care of Nala, who suffers from arthritis and was recently diagnosed with ligament problems in her back legs. Poor Nala was in so much pain she could barely walk, but thanks to the support of PAWS, Sandra can now provide medicine to Nala–and it has made a big difference.
PAWS also provides Nala with pet food, flea and tick medicine, supplements for her joints, and even regular nail trimming. Sandra says that the support from PAWS has helped decrease her anxiety because she doesn't have to worry about how she'll get food and medicine for Nala.
Our Women's Cancer Program and PAWS have given Sandra and Nala much-needed critical support, helping them overcome serious health challenges and stay with each other. "This dog has been through a lot with me. We are getting old together, too."